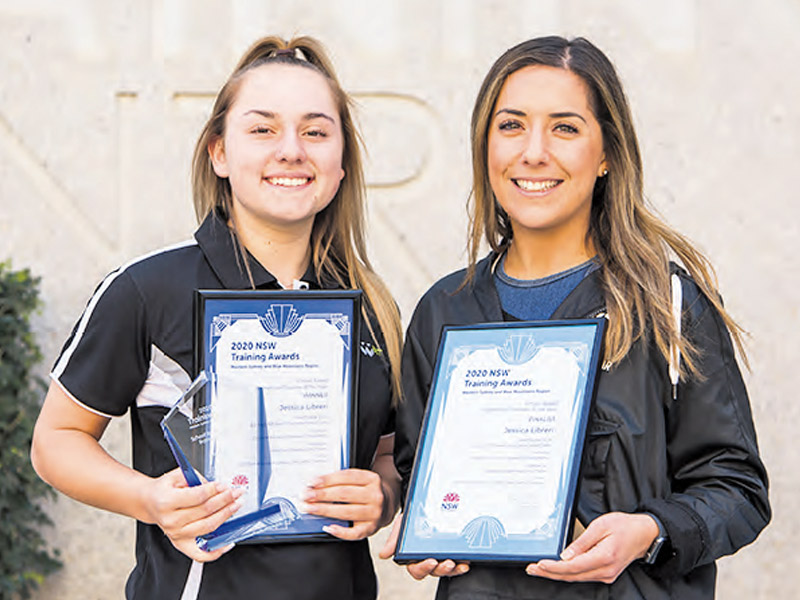 Jessica Libreri with teacher and mentor Kirstene Ciappara. Photo: Megan Dunn.
CathWest Innovation College's Jessica Libreri has taken out a top award at the regional 2020 NSW Training Awards.
The student, who attends the McCarthy Campus in Emu Plains, is now in the running for the State Finals in October. Jessica, who is completing a Certificate III in Early Childhood Education, won the School Based Apprentice/Trainee award for her exceptional commitment to formal studies at school and during work placement.
Jessica said she couldn't believe she won the award and started crying when they called her name.
"There were so many other excellent nominees so to win, it was just incredible," she said.
"It has given me such a great confidence boost and shows that I am worthy and must be doing well at school and work."
With her studies disrupted due to the pandemic, Jessica said she couldn't have continued without the support of her school.
"They ran classes every day and we had split screen technology, so if we didn't understand something, then they were always on the ball with helping us," she said.
"They're really good mentors and the principal and teachers call us to check in on how we're doing mentally, which really backed up my decision to move to CathWest in Year 11."
---
Learn more about CathWest Innovation College