The NSW government has launched "a new generation" of vocational high schools to help students find jobs in a post-coronavirus economy.
Skills and Tertiary Education Minister Geoff Lee said Seven Hills High School in Sydney's west would be among the first to provide students with dual HSC and vocational qualifications, and curriculums designed "to suit the students".
Premier Gladys Berejiklian on Monday said the school would provide qualifications in community and health services, construction, electro-technology, plumbing, transport and logistics to meet local industry needs within three years.
"Seven Hills High School will now be well placed to take advantage of major projects in western Sydney, including the construction of the aerotropolis, which will require a steady pipeline of skilled tradies for decades to come," she said.
"It's crucial we look to reskill, retrain and support school leavers to access opportunities in industries where there are skills shortages and emerging employment opportunities."
Scott Drury, 15, from Bella Vista, is learning "a whole new skill set in things that I didn't even know existed" at CathWest Innovation College, a new school in Sydney's western suburbs.
The school, run by the Catholic Education Diocese of Parramatta, opened this year to provide alternative vocational education, training paths and mentors for students and is encouraging students to create their own study and career paths.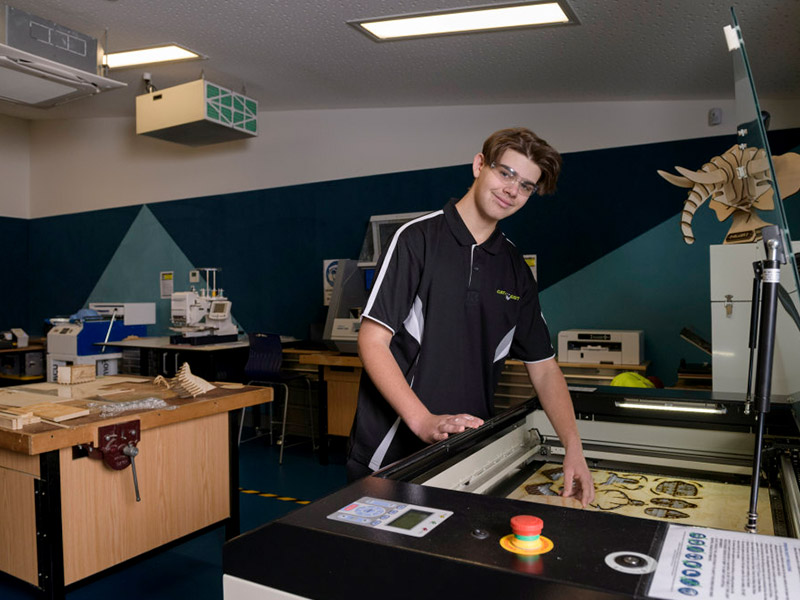 CathWest Innovation College student Scott Drury with a laser-cutting machine that is helping him develop skills in advanced manufacturing. Photo Credit: Rhett Wyman
"When I leave school I want to look into doing advanced manufacturing, and designing and creating machines to help automate people's businesses to make the process of making their products quicker and easier and safer for their workers," Scott said.
Scott's classmate Will O'Donnell no longer has to wait until he leaves school to learn the skills he needs to start a career in jewellery design. The 16-year-old from Winston Hills creates jewellery in the school's Maker's Space. He carves ring moulds out of jeweller's wax and uses a 3D printer to scan the moulds for mass production.
"I want to start my own business and sell the stuff I make," he said. "I also want to go down the trade route in metal fabrication."
"I'd like to be a jeweller or a custom knife maker."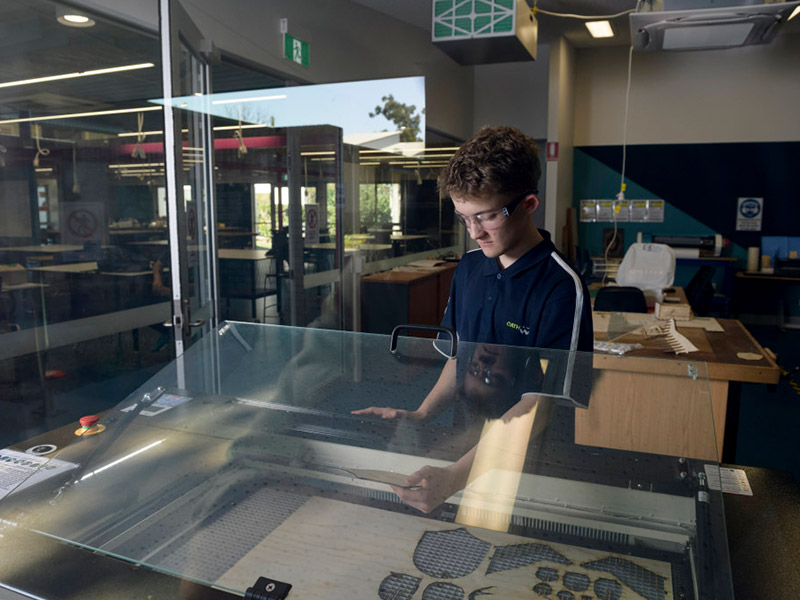 Year 10 student William O'Donnell with the laser-cutting machine at CathWest Innovation College. Photo Credit: Rhett Wyman
Principal Cathy Larkin said students at the college, which has campuses in Emu Plains and Mount Druitt, get industry training and vocational education qualifications or develop their own 'passion project' with the support of a mentor teacher and industry partners.
"This new approach to schooling sees teachers and industry experts working alongside students and tackling real world learning projects," she said.
Students at the school help operate a cafe, a hairdressing salon and a childcare facility, which are open to the public.
"We're not just a new school. What we're doing is unique, not only in Sydney or Australia - but globally," Ms Larkin said.
It's one of a number of NSW schools doing things differently.
Mem Younghusband, 16, is one of the Year 11 students at Kinross Wolaroi School in Orange who have completed a 20-week work placement. She spent her half-day a week at a veterinary hospital and hopes to become a vet nurse or work with horses. She plans to do a related TAFE or university course.
"I helped with getting surgery prepped and cleaning and anything that needed to be done," she said. "It was really good experience because it's what I want to do when I leave school."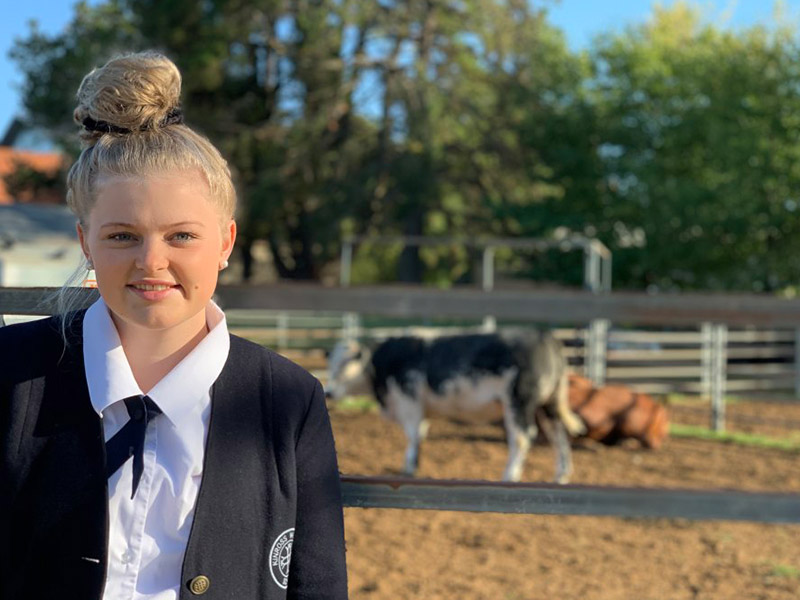 Kinross Wolaroi school student Mem Younghusband. Photo Credit: Kim Cotton
Sue-Ann Gavin, director of the Regional Engagement Enterprise program at the independent school, said the school links students with industry to make their education more relevant to future work opportunities.
At Wyndham College, a government school in Quakers Hill that shares facilities with a Catholic school, TAFE and Western Sydney University, students have a range of study options in digital technology, hospitality, retail, business services, entertainment, dance teaching and construction. Pupils also have access to a professionally equipped trades school and university subjects from Year 11.
Bradfield Senior College, a government school in Sydney's St Leonards, is focused on helping students get industry experience in creative fields including computer design, visual arts and entertainment.
Principal Meredith Melville-Jones said: "It is about integrating what they are learning in their traditional HSC and vocational certificates and really applying it with industry input and feedback."