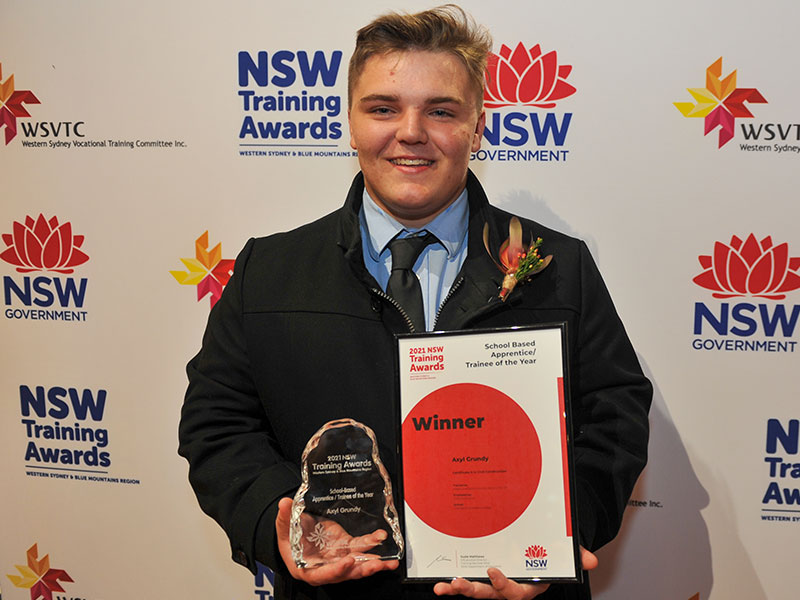 Axyl Grundy is making the most of being a school-based apprentice with CPB Contractors
CathWest Innovation College student Axyl Grundy has won the NSW-School Based Apprentice/Trainee of the Year Award at the regional NSW Training Awards (Western Sydney & Blue Mountains). Through his traineeship with CPB Contractors, this hard-working high school student from Cambridge Gardens has worked on a key piece of Western Sydney infrastructure, the Northern Road project.
After chasing his childhood dream as a member of the Greater Western Sydney Giants academy, the talented AFL player broke his ankle in the Under 13 semi-final. Unable to return to form following this injury, Axyl needed a new pathway to pursue.
"In Year 10, I was sitting in Maths one day and my teacher was explaining how their niece or nephew was an engineer," Axyl said. "It sounded really cool."
After completing his Certificate II with CPB while he continues his HSC at CathWest Innovation College McCarthy Campus in Emu Plains, Axyl has learned that there are many more career opportunities ahead. He's also back playing AFL with the currently undefeated Emu Plains Lions!
"I always thought engineering was the thing for me but ever since being with CPB, I've seen there's lots of other potential pathways so we'll see, it's exciting," Axyl said. "If I took the same path as a lot of my mates, I might not have known about the range of opportunities available in construction."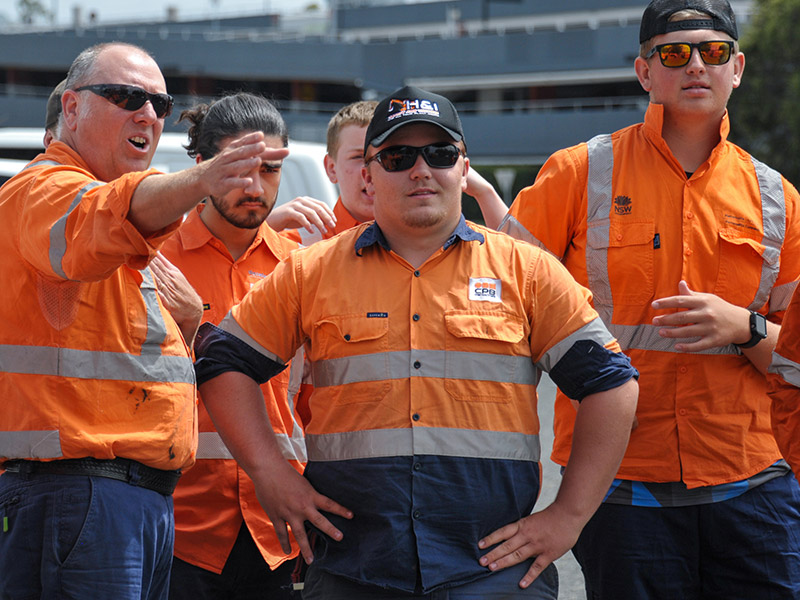 Axyl has been developing skills that could lead to him becoming a foreman in the construction industry.
A humble and unassuming student, Axyl was thrilled to be named School Based Apprentice of the Year at the regional awards night at Sydney Zoo.
Axyl and his classmate Aiden were nominated for the award by CPB Training and Development Manager Rebecca Britt. Aiden had the opportunity to work on another key Sydney infrastructure project, The Rozelle Interchange.
"This has been our first time with school-based apprentices and it's just been wonderful and a big reason why we've brought on another group of CathWest students," Rebecca said.
"As a business, we didn't have a lot of knowledge about the school-based program and now we are so grateful for it. We have crew out there who are coming up to me and saying 'I want that for my kid' or 'I wish that was around when I was at school'."
Rebecca feels that Axyl is a natural leader who will go far in the future. He has really made the most of the opportunity of being on site, putting his school debating skills to the test in conversation with co-workers, skilling up in all areas of civil construction and even putting his hand up for night shifts!
"You can't be a leader if you're not willing to put in the work yourself," Rebecca said. "Axyl consistently demonstrates the work ethic and attitude necessary to be a leader and an aspiring foreman one day."
"I couldn't tell you where I'll be in four or five years," Axyl said. "I'm just really confident I'll be in a good place thanks to the skills I'm developing at CPB and CathWest."