STEM MAD: Inspiring students to change the world
13 Oct 2023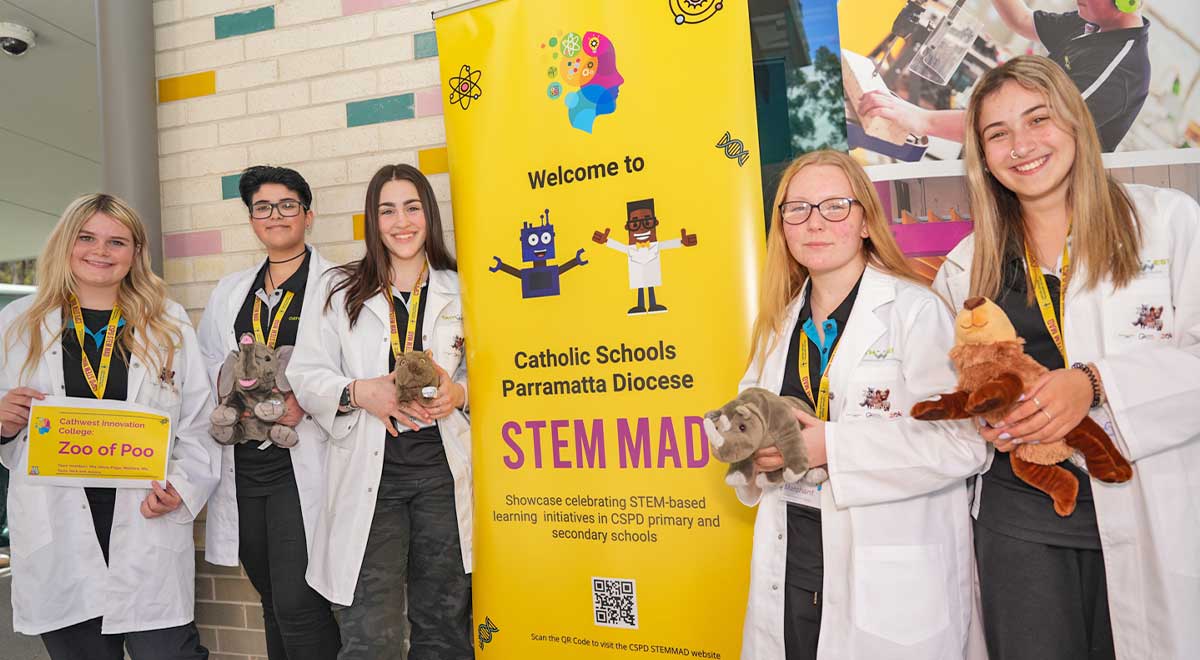 Inspired by a passion for science, technology, engineering and maths (STEM) and a desire to make a difference in the world, over 300 students from throughout Western Sydney and the Blue Mountains converged on CathWest Innovation College in Mt Druitt for an amazing 2023 Catholic Schools Parramatta Diocese (CSPD) STEM MAD Showcase.
The first live CSPD STEM MAD Showcase since the COVID-19 pandemic was a huge hit as 25 primary and 10 secondary teams from 18 schools presented their innovative STEM projects. The day also included a range of exciting STEM challenges and activities including bridge building, bottle rockets, a chess competition, F1 in Schools car presentation and races, and Makey Makey Game Controller and Coded Drones.
"The highlight is all the students being here in person," said Paul Stenning, CathWest Innovation College Principal. "For the last two years, STEM MAD events for the Parramatta Diocese have been virtual events and they've been great, but the buzz in this space right now is fantastic. Students are sharing their thinking about solutions to real-world problems."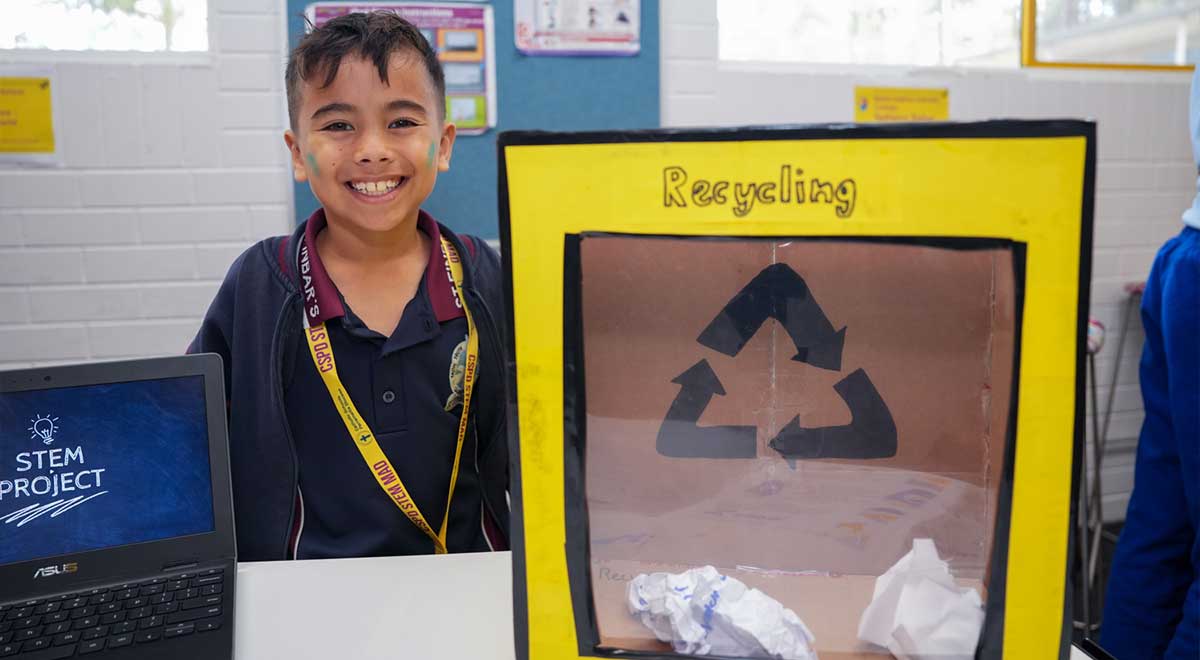 Of the 35 teams that presented at the showcase, five were selected to present at the National STEM MAD Showcase in Melbourne on 9 November. They are secondary schools CathWest Innovation College (Zoo of Poo), Catherine McAuley Westmead (Green Motion) and Marian Catholic College Kenthurst (SEWP - Sustainable Electricity and Water Provider) and primary schools St Angela's Castle Hill (Biotricity) and St Bernadette's Castle Hill (Sort It Out).
"STEM MAD provides so many students with a wonderful opportunity to come together, be inspired and learn more about science," said Christine Howe, CSPD Deputy Executive Director and Director of Learning.
"The MAD in STEM MAD stands for 'make a difference' and this is how we as a system of Catholic schools can use our science, engineering, maths and technology skills to make our world a better place."
Year 3 and Year 1 students Rebecca, David, Jacob and Georgia from St Bernadette's Primary Castle Hill created an online game that will educate students about how to sort rubbish and enable recycling, resulting in less waste in landfills.
"We are very aware of the pollution in our world and we wanted to work out how we students can help with this problem," said David.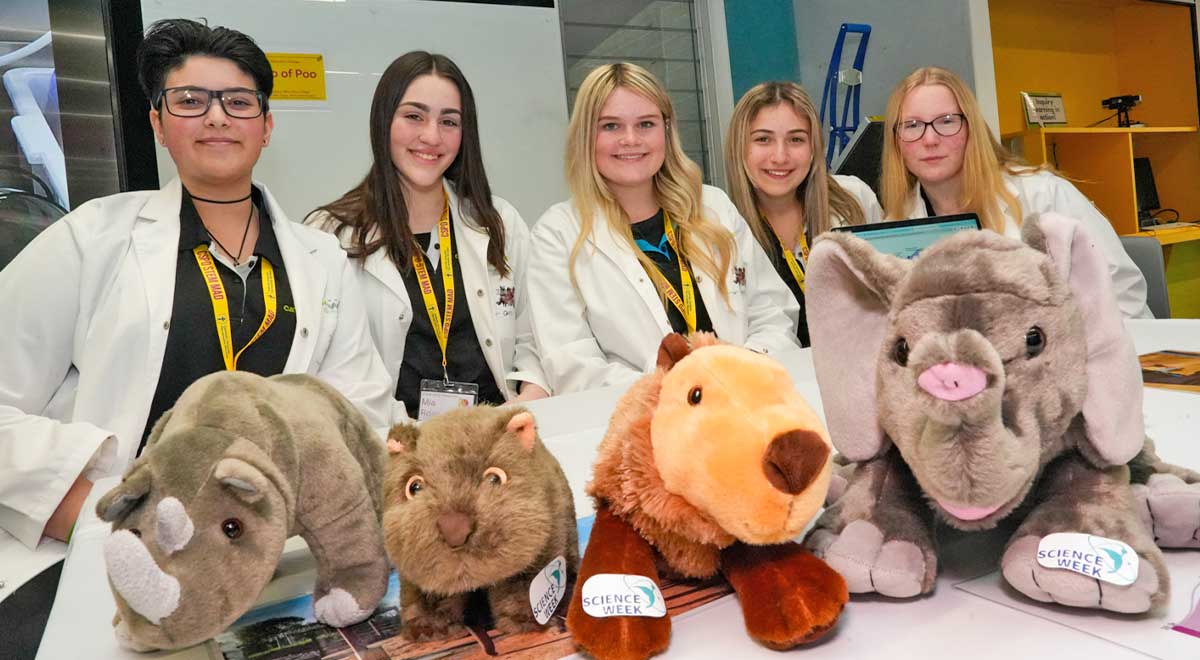 The CathWest Innovation College 'Zoo of Poo' team consisting of Year 10 and 11 students Mia R, Paige, Taylor, Olivia and Mia C partnered with Quantel Bioscience and Sydney Zoo to study and research the microbes in animals' stomachs to help improve the nutrition of zoo animals. Their project won the award for Best STEM Idea (Secondary).
"We all love and have a passion for helping animals and wanted to help them in a non-intrusive way," said Mia R. "The science behind our project enables us to assess things like diet, what makes animals sick or unhealthy, lots of things. We hope one day this will become much bigger than it is now and be able to help animals around the world."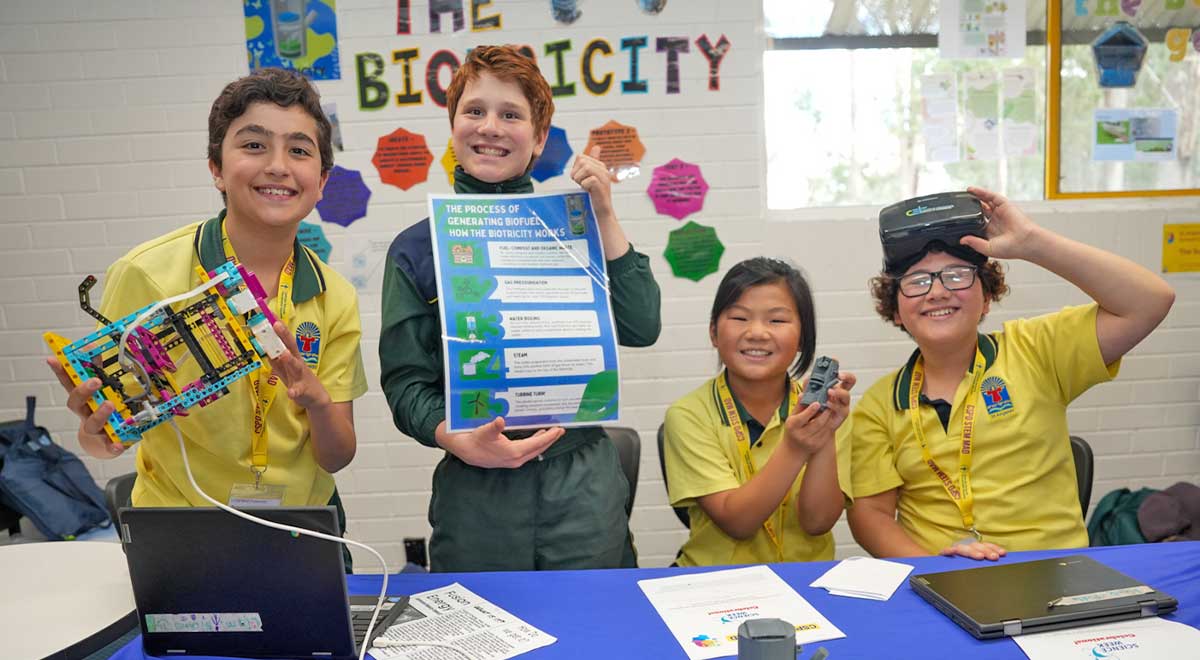 The St Angela's 'Biotricity' project, which won the Best STEM Product award (Primary), uses the power of compost to generate power.
"It's essentially a bioreactor that generates electricity to charge laptops or cars or possibly even an entire city," said the team of Monte, Joshua, Mathis and Liam. "Biotricity will solve two main problems. The current energy crisis and waste crisis by using biological waste to generate energy."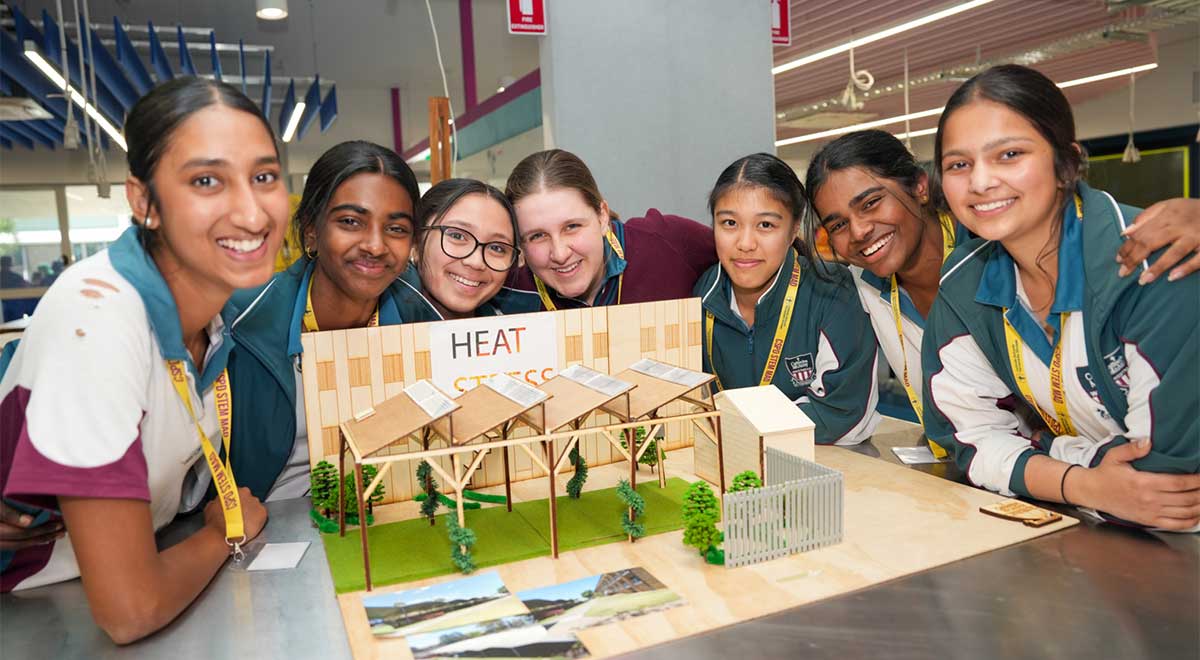 The Green Motion project from Catherine McAuley Westmead students Daphne, Ann, Isabel, Annie, Anushree, Sarah and Karen looks at heat stress in their school and the local Parramatta area. They devised a new shade structure that maximises light but reflects heat and includes a system for collecting water to feed low-maintenance plants that help make the space nice and comfortable. Their team won the award for Best Presentation (Secondary).
"We think this will help people with physical and mental health problems associated with heat stress," the students explained. "Our research showed how heat stress can even occur in the shade where we sit during recess and lunch."
The SEWP (Sustainable Electricity and Water Provider) project was developed by Marian Catholic College Kenthurst Year 8 and 9 students Carlo, Joshua, Eleanor, Emily, Troy, Cameron, Mikhael and Jayvin. It addressed the issue of a lack of resources in rural Australian schools. Their SEWP device provides clean water, sustainable electricity and internet through the use of solar panels, a water filtration system and a satellite connected to a router.
"It's great that students can see what other students in other schools are doing," said Paul Stenning. "It lifts the bar so every year the projects are at a new level. This is helping provide our community and our country with future engineers, mathematicians, scientists and technologists."
Along with interacting with other students and learning about their STEM projects, students took part in a series of exciting STEM challenges throughout the day such as bottle rockets, bridge building and an F1 in Schools Challenge.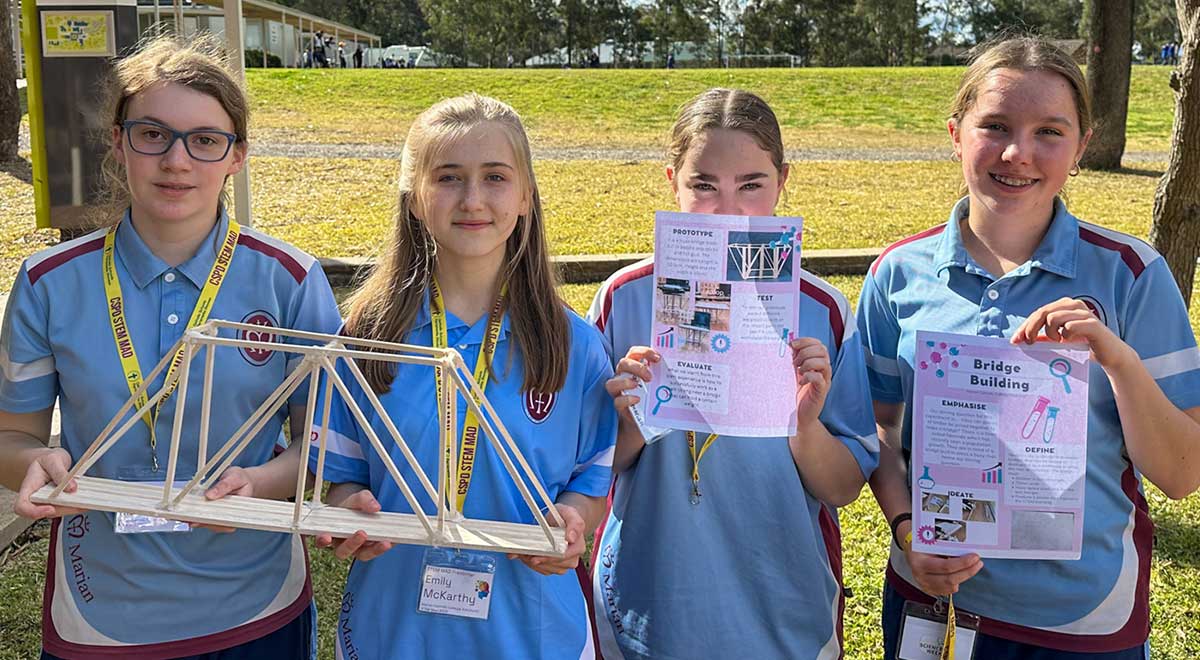 Students from Our Lady of Mount Carmel Primary Wentworthville (Primary) and Marian Catholic College (Secondary) won the bridge testing challenge with structures that held 13kg and 16.2kg respectively.
Patrician Brothers' College Blacktown students took out the bottle rocket challenge (Secondary) with a rocket that travelled 69 metres. St Angela's Primary Castle Hill won the primary category with a rocket that travelled 68 metres.
"It was such an amazing day," said Lisa Nash, CSPD Learning Exchange Manager. "It was wonderful to see the buzz, energy and engagement from students participating in all the activities."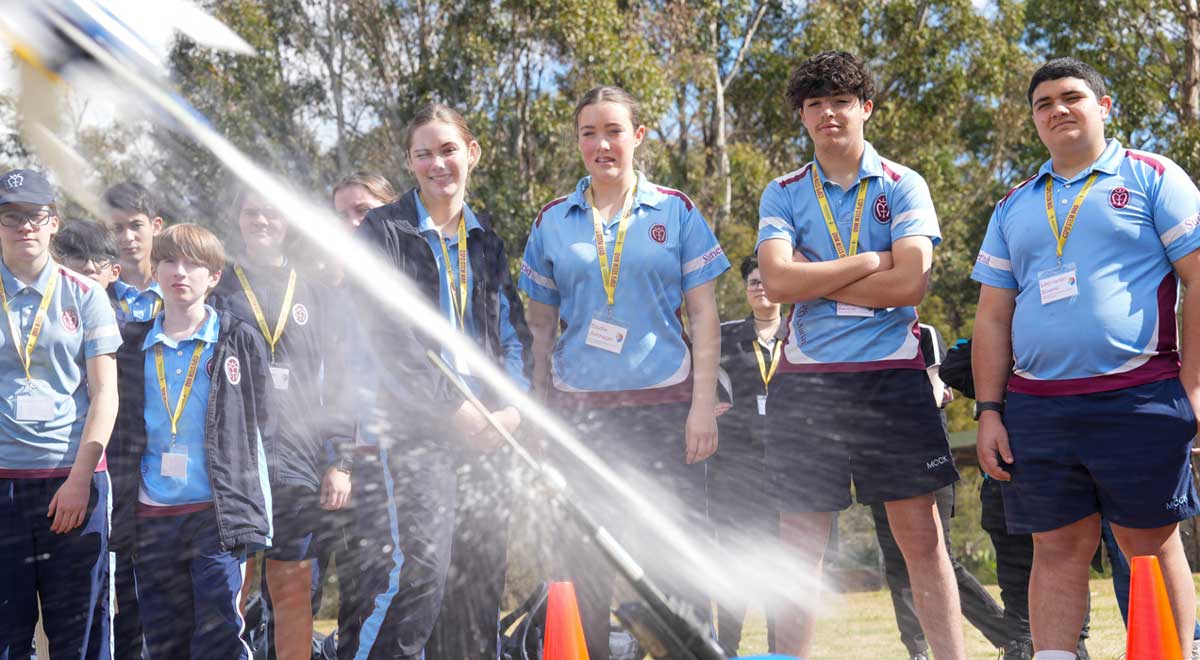 "I hope our students take away a sense of wonder, a sense of investigation and a sense of creating," said Damien McGuire, CSPD Leading Teacher School of Now. "Not just being passive learners, but active learners in our classes and to see those things that they've learned being applied in a real-life context."
"In a lot of cases, students might be good at maths or might understand science but to be able to put maths and science together with technology to build for a future, to come up with new and innovative creations. It's inspiring to see how much students engage with that," said Steven Bauer, CSPD School of Now Manager.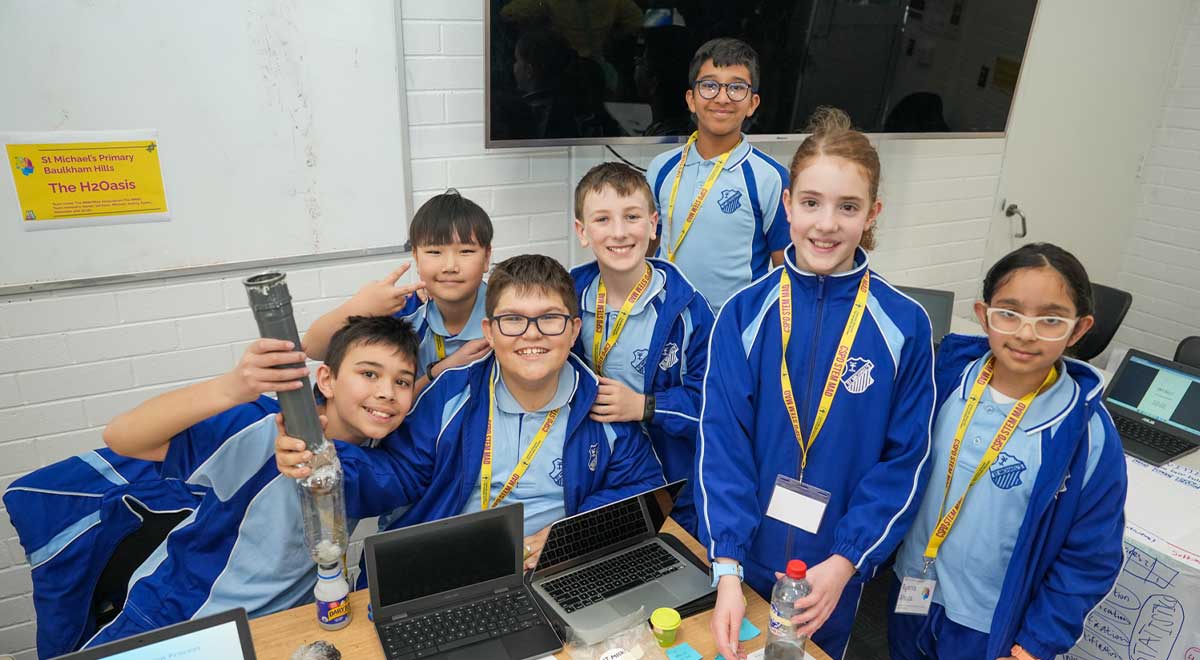 The Cyber Aware team from Holy Family Primary East Granville won the Best STEM Idea award (Primary) while the St Michael's Primary Baulkham Hills 'H2Oasis' team won the award for Best Presentation (Primary).
"Our Cyber Aware app prevents students from being cyberbullied," explained student Emelia. "It teaches what to do when you're cyberbullied, who to go to and teaches you facts about cyberbullying."
"The problem is that millions of people all over the world don't have access to clean water and this will help them to get the water they need," said Daniel Kim, Year 5 student at St Michael's.
CSPD STEM MAD Awards:
Best STEM product (Primary)
Biotricity - St Angela's Primary Castle Hill
Best STEM product (Secondary)
EOS - School of Now
Best Presentation (Primary)
H2Oasis - St Michael's Primary Baulkham Hills
Best Presentation (Secondary)
Green Motion (Heat Stress) - Catherine McAuley Westmead
Best STEM Idea (Primary)
Cyber Aware - Holy Family Primary East Granville
Best STEM Idea (Secondary)
Zoo of Poo - CathWest Innovation College
Selection for STEMMAD National 2023
Zoo of Poo - CathWest Innovation College (Secondary)
Green Motion (Heat Stress) - Catherine McAuley Westmead (Secondary)
SEWP (Sustainable Electricity and Water Provider) - Marian Catholic College Kenthurst (Secondary)
Biotricity - St Angela's Primary Castle Hill (Primary)
Sort It Out - St Bernadette's Primary Castle Hill (Primary)
Bridge Testing
Primary - Our Lady of Mount Carmel Primary Wentworthville <13kg
Secondary - Marian Catholic College Kenthurst (Girls team) 16.2kg
Bottle Rocket Champions
Secondary
1st Place - Patrician Brothers' College Blacktown 69 metres
2nd Place - Patrician Brothers' College Blacktown 68 metres
2nd Place - St Agnes Catholic High School Rooty Hill 68 metres
3rd Place - Catherine McAuley Westmead 36 metres
Primary
1st Place - St Angela's Primary Castle Hill 68 metres
2nd Place - St Angela's Primary Castle Hill 31 metres
3rd Place - St Aidan's Primary Rooty Hill 28 metres